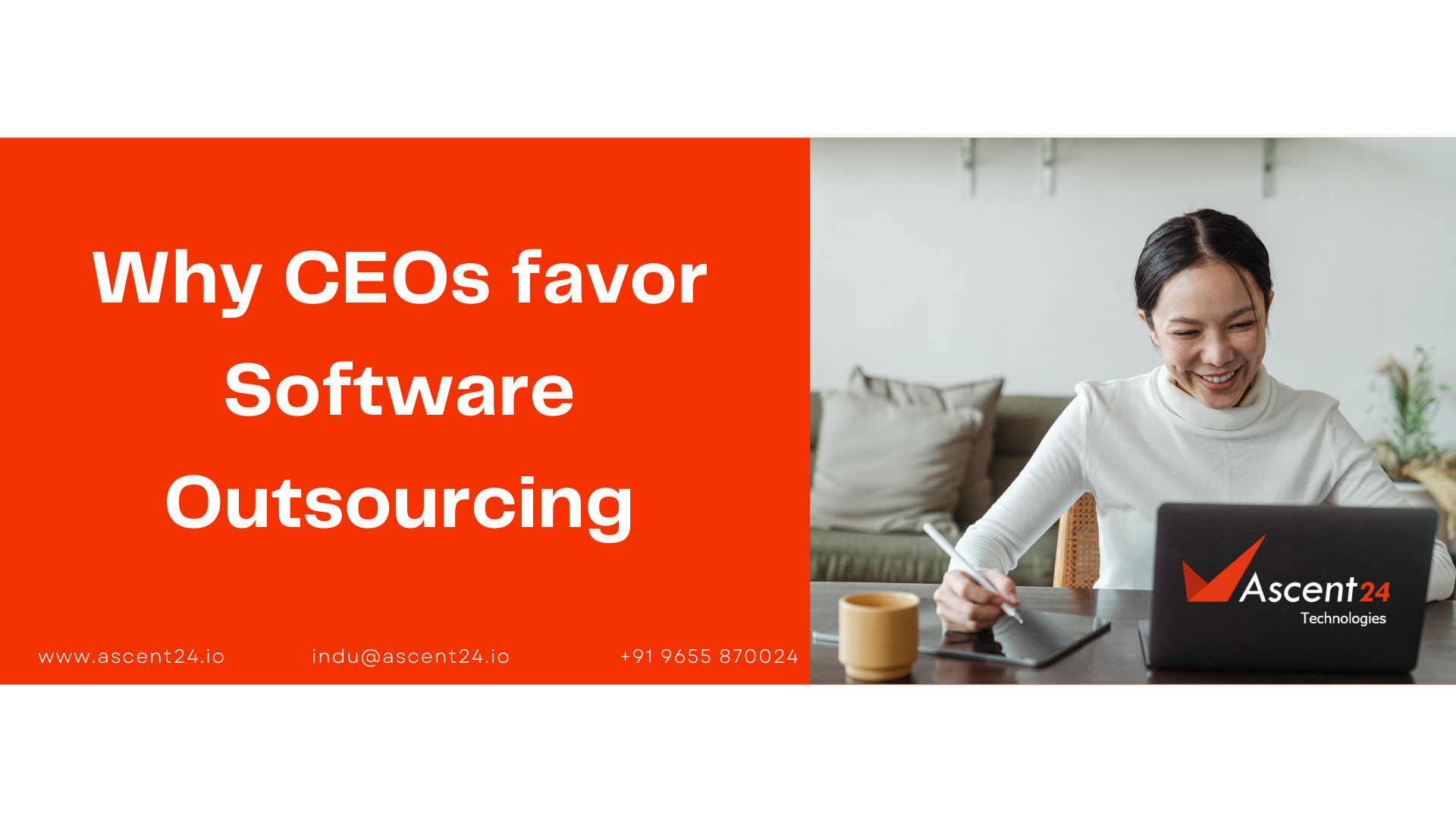 Outsourcing Software : Why CEO's favor IT Outsourcing
Outsourcing software requirement is not a mere trend but a priority in the minds of CEOs and entrepreneurs. Regardless of the business industry you are in, and the size of your business, owning a smart, unique, simple, and attractive digital platform has become a must. Also, digital transformation has proven to be a successful and cost-effective strategy to scale up business and maximize revenue. Globally, it's proven that businesses with a smart technology platform have achieved triple the revenue and growth compared to their non-tech competitors. Be it startups or established businesses, owing a digital platform for their business has shown promising results to CEOs with :
Reduced cost of expense.
Increase in business proficiency at least 10-30%
Maximized Revenue and ROI
But why outsourcing?
As per Statista, The turnover in IT outsourcing market in 2019 which was 395.57 billion U.S. Dollars, was predicted to grow approximately 413.7 billion U.S. Dollars in 2021.
The core reason(s) behind the increase in turnover is the real reason we are looking for.
Why CEOs are favoring Outsourcing for profitable success and growth?
So, the question. Why?
The core of success and growth of any business lies in the countless smart and sustainable strategies that are discussed and built in the C-suite. And if IT outsourcing is enjoying a whopping 413.7 billion U.S. Dollars in 2021, it's very much clear outsourcing is helping companies achieve profitable growth and desired success. And if a strategy ensures growth, success, and profit, no wonder, CEOs and entrepreneurs are favoring it! From the words of CEOs and entrepreneurs, we have managed to discover why companies are favoring outsourcing.
Cost-effective
 : Outsourcing projects reduce in-house employee costs like employee taxes & benefits, office space, hardware and software resources maintenance, monitoring and training software team, and other employee management expenses.
Accuracy with Expert skill set 
: With global talent pool, there's no worries of technology shortage or talent confinement. This results in timely delivery of quality software product.
Accelerates time-to market
 : Access to experienced and skilled developers ensures reduced errors or issues, repeated testing, and quality product launch, at a faster pace. Early-to-market means staying ahead of competitors in reaching customers.
Risk Reduction
 : Outsourcing reduces the risk of investment, resources, and testing or financial risks. With experts, the risk of product failure or major delay is reduced to nil.
Flexible Solutions 
: With no geographical limits, outsourcing is the key for the company to get access to next-gen technology or technical know-how, at affordable price. This drives the company to scale up, stay unique, and enjoy the benefits of both the worlds.
Scalable
 : With outsourcing, it's easy to hire a team of software company as per the requirement and budget. With change in project requirement and size, flexible change in cutting edge tools and technologies, and project development team is possible, supporting to be more cost-effective.
Partnership
 : As per the project requirement and output, companies can decide on having a long-term or short-term partnership, and own a skilled IT team for their business, outside their office premises, at reduced cost.
Focus on Strategy & Business Growth
 : Outsourcing helps you to spend more quality time on thinking about strategies to expand your business. Most of the projects getting outsourced require constant support and maintenance, after the launch of the product. With the third party team's support, you can focus on the important aspects of your business. As an entrepreneur, as a CEO, you also enjoy a high-quality, advanced, smart, speedy, and user-friendly software product custom developed, exclusively for you, as per your requirement to help you achieve your business goal.

Outsourcing with Ascent24 Technologies
Startups understand the pros of nearshore outsourcing while established businesses understand the need of a reliable long-term partnership in outsourcing, be it offshore or near shore. IT Outsourcing is a proven smart strategy by both startups and established businesses to expand business, achieve growth, and maximize revenue.
Ascent24 Technologies
 is a complete software solutions provider company, offering the latest in software development services. Outsourcing your software requirement with Ascent24 Technologies will help in achieving promising business growth, with reduced cost of expense, at least by 80%. Our clients are enjoying the benefits of outsourcing with us :
Reduced cost of expense
Easy integration and upgradation
10x faster working apps
3x increase in profit
24×7 maintenance & support
Though we are located in India, our experienced and skilled team of Ascent24 Technologies will work alongside your team, with transparent communication, and ensure your software requirement is met and your business goal is achieved, in less time at affordable cost.
Get in touch
with our team. We are eager to listen to your dream and business goal, and inspire you with our product.