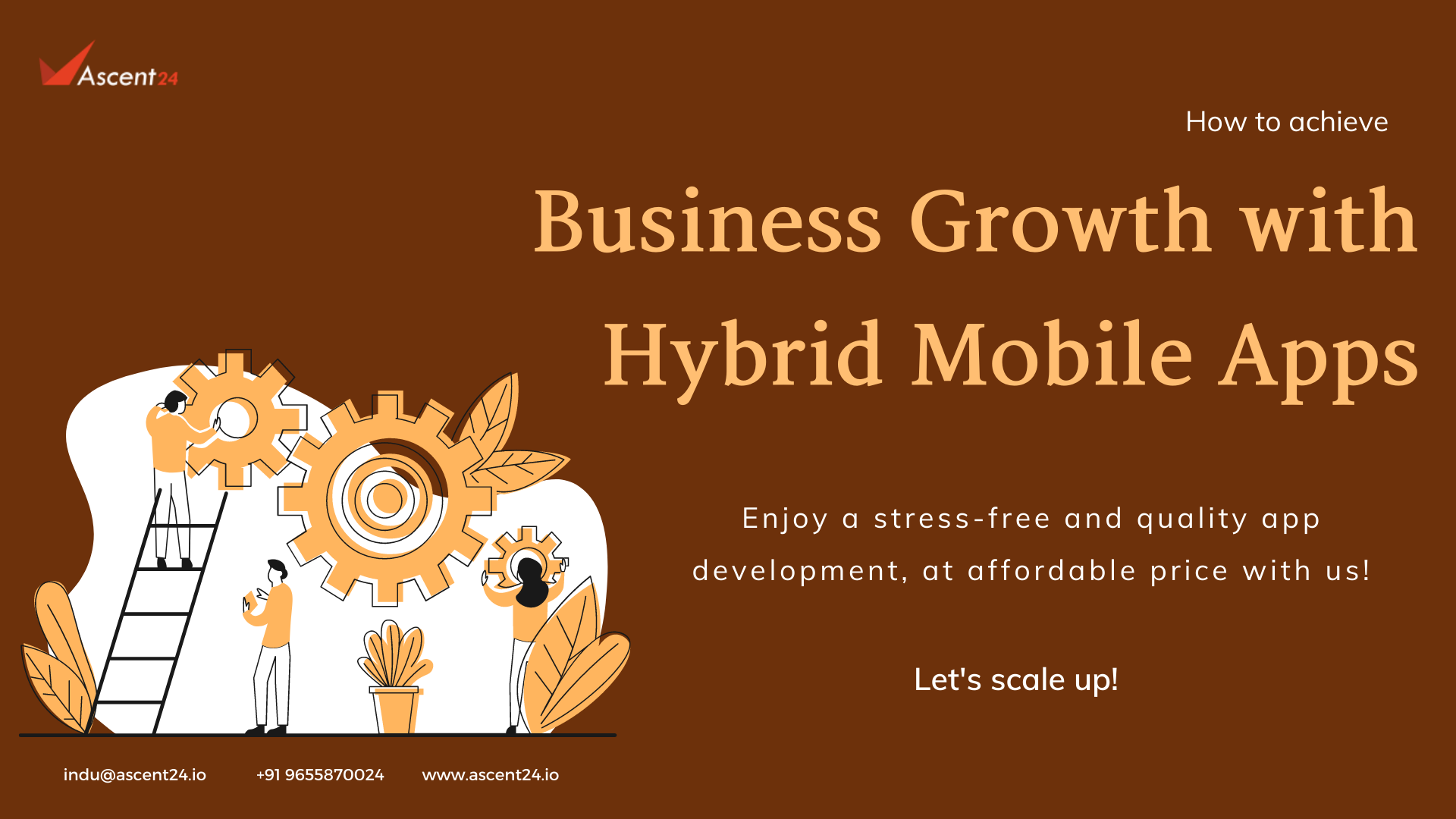 Hybrid Mobile Apps: The proven strategy to achieve Business growth in 2022!
Hybrid Mobile Apps. Before getting to know how hybrid mobile apps are uplifting businesses of all sizes, regardless of the difference in industry, let's know the importance of mobile apps for your business. According to a study,
"65 percent of users say a poor mobile experience negatively impacts their opinion of the brand."
That's how essential mobile apps are for businesses and also implies, how important it is to have an extensive planning, research, stunning design, and unbeatable dedication towards developing and owning an app for your business. As a startup or business looking for ways to explore, when you are trying to find the best suitable digital platform for your business, many paths and equally greater number of questions arise, making it hard to decide on which is best for you to achieve immediate growth and succeed. The moment owning an app for your business pops inside your head, a lot more question follow up, to harden the decision-making. Should I go for iOS or Android app? Will it be expensive to own an app in both the platforms? If it's too much, how about trying web apps? Which idea to ignore, and which to proceed with confidence? To help you stand out in the healthy and simply strong competition, and develop an mobile app that helps you reach more audience at a minimal budget, that's precisely where "Hybrid Mobile Apps" come in.
What are hybrid mobile apps?
Picking the right mobile app solution that fits all your business development goals at an affordable price with less time and maintenance, is like running inside a puzzled maze. Hybrid mobile apps are applications written with one technology and can be used in multiple platforms, like, both websites and mobile web implementations. The most entrepreneur-friendly reason for entrepreneurs to love hybrid mobile apps is that, hybrid mobile apps, once developed, can be published in multiple platforms like Apple, Android, Windows, and Google. Also, it ensures users to enjoy the stunning user-experience they receive from an app, along with the speed of a website.
Why Hybrid Mobile App is best for your business?
There are multiple scenarios, a business has to think before developing an app. And to cover all those scenarios at an affordable price, with less app development time and hassle-free launch in all platforms, is where hybrid apps comes in. The most friendly features of hybrid mobile apps are :
Hybrid Apps are easy to develop. Faster build with less timeline, and still, work on multiple platforms!!
Easier maintenance than the simplicity in developing. Their level of flexibility supports in hassle-free scalability and modernization, yet again, at an affordable price.
Hybrid Apps can integrate easily with web-based services.
Hybrid Apps can integrate with any mobile device's file system.
Hybrid Apps can function even when the device is offline or even at times of poor connectivity.
Hybrid Apps support decreased mobile data consumption, bringing joy to users.
From developers point of view, hybrid apps require skill in just one language that supports in developing an successful app that works efficiently in multiple platforms and still be effective!
How our hybrid mobile apps benefitted our clients?
Our hybrid mobile apps, developed using open source UI framework, Ionic, has impressed our clients in many ways as it has supported them in many ways, unimaginable.
Reduced App Development Timeline
Ascent24 Technologies
, being transparent about project timeline and process, every time, so far, has been effective in delivering hybrid apps, with faster build times. Hybrid apps have eased our clients in launching an fully-effective mobile app, in multiple platforms, in less time.
Quality Mobile Apps
With quality hybrid mobile apps, our clients are provided right solution for their business, as per their needs and this in turn channelized their strategy towards growth and profit.
Increased success rate
With our creative and fully-equipped hybrid mobile apps, our clients noticed an increase in collaboration with their customers, and also reduced response time with accuracy and speed. Result, with time saved, hassle-free integrations, and speedy reaching-out to customers, clients noticed speedy increase in success rate.
4x increase in productivity
With our user-friendly, simple-to-use, visually professional, and all-efficient hybrid mobile apps, clients were able to deliver their business capabilities and reach out to customers in reduced time, in multiple platforms. This resulted in helping the business deliver quicker and better, and thus increased their productivity by four times. And with increased productivity, comes more attracted customers and in turn, increased revenue and success.
Flexibility
Our hybrid mobile apps has helped our clients with easy updating, easy feedback collecting, and easy deploying of new or revised strategies, helping client's business stay one step ahead in the market. With hybrid mobile apps, it's flexible and time saving to make one change for all platform!
Maintenance & Scalability
Maintenance and scalability is the main phase to focus in terms of any software development. With us, and our hybrid mobile apps, maintenance and scalability are hassle-free for our clients, as a result of reduced infrastructure at affordable price, with us. All thanks to hybrid mobile apps, there's always a speedy delivery of modernization and scalability.
Stress-free Growth
Our clients are able to focus on more innovative business strategies and enjoy their success and profits, with no worries on their digital platform, all thanks to hybrid mobile apps, which inspire us to develop more!