Project Management: How Zace App is highly effective to reclaim your time?
Project Planning and Project Management is the utmost crucial and tedious task any team leader or project manager will face in all forms of business.
Irrespective of the size of the team, location, business, and work, the terror in managing a team and project is the same. Project Management indeed is a global issue, regardless of business.
Everyone in the team as well as those who are currently leading a team will agree that project management is not a simple task.
Every project have certain default constraints like:
Client
Time
Budget
Project Requirement
Beyond these constraints, handling a project and a team includes some predominant common issues like:
Miscommunication
Lack of Collaboration
Lack of skills
Lack of accountability
Unrealistic deadlines
Scope Creep
Missing realistic deadlines
Lack of Risk Management
Poorly defined goals.
After I was assigned in a team, in the early days, the very basic and common issue that prevailed in the team was communication gap. With failure in communication came failed collaboration! The effects of both resulted in delay of project completion, conflicts inside the team, and in turn, the worst case scenario, with clients!!
When at the initial stages of my career, as I began being part of different teams and people, I noticed, certain issues prevail, just like air. It became unavoidable in project management. Managing a project and making sure people finish their assigned tasks in assigned time is like launching a rocket. Everything has to align in their designated time and place.
But, sadly, that's not how reality is and that's where project managers and team members enter the zone of delay! Delayed minutes turn into delayed hours and, in turn, delayed project submissions.
And, every delay from our side is our competitor's gain!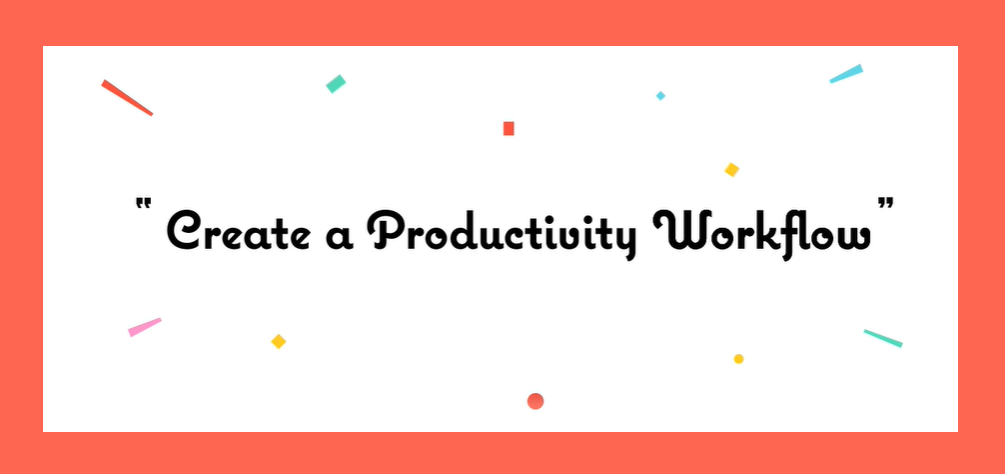 Ever experienced how wonderful it is to finish a project before the deadline?
If you are looking for an opportunity to live such a day, not just once in your lifetime but in all days, you would have heard about this, probably. "Project Planning and Project Management Apps"
With technology, smartphones, and the next-gen advanced apps, project management software are the best effective tool to support people in easy and effective project planning and project management.
Zace is one such successful tool you need for project and task management of your projects.
ZACE : Project Planner and Project Management App
Zace, a Gantt chart supportive project planner and project management software and app developed by the team of Ascent24 Technologies, helps to empower your team to work smart, quick, collaborative, and effective.
The easy-to-use Gantt Charts helps you wrap up projects effectively, in time.
What does Zace Project Management Software do?
If you are a project manager or team leader, and is looking for an effective way to:
Prioritize tasks
Instantly communicate with team members
Manage time
Collaborate impressively
Have clients informed in every project update
Hit deadlines
Avoid delay
Zace is that one-effective tool to let you enjoy all this and even more, in a simplest and easiest manner!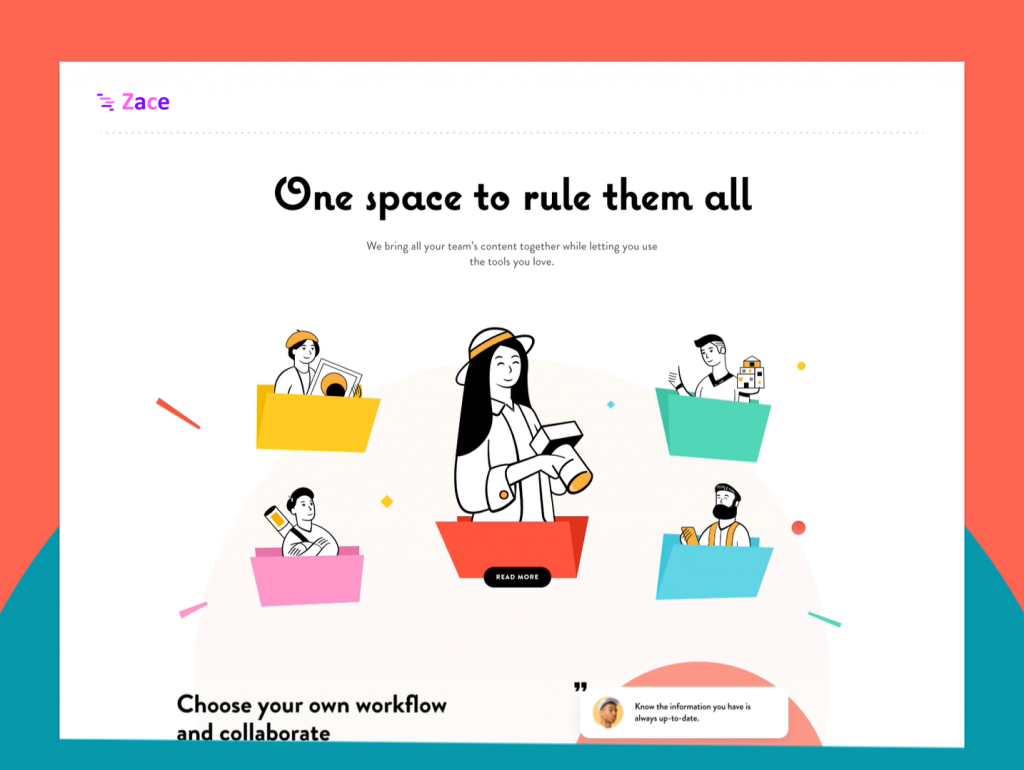 How Zace benefits in effective Project Management?
Zace has integrated Project and Task management with sub tasks, due, and delay and has simplified everything in one smart step!
All Tasks in one place
With Zace project planning, it is easier for project managers to set clear priorities while breaking the whole project into small chunks. It supports in easy manageable project flow and tracking. Zace saves time from updating every team member individually on addition, removal or updates of tasks. With Zace, update of tasks can be done in one place, and all members can be updated at the same time, from anywhere. This supports for easy assigning, instant scheduling, and tracking of updates, and also avoids miscommunication, or losing of work. With Zace, on one update and notification, every team member is updated.
Flexible Task Prioritization
Taking special care on tasks which needs more care, or is on delay, or should be prioritized urgently helps in a stress-free and transparent project flow. Zace supports in a flexible task prioritization, by providing an easy "click-to-drag" option to move tasks and sub-tasks and let the team members be aware of the task priorities.
Smart Time Measurement
With Zace, measuring the time taken for every task, and sub task is easier. Smart implementation of Zace's tool has helped project managers and team leaders to be aware of the time a team member takes in finishing the project. This helps in guessing the timeline it might take to finish the project, train him/her to improve their performance, and improve team's effectiveness.
Effective Collaboration
Be it communicating with the team, sharing a requirement list or file with the team, or updating the client's feedback review form to the whole team, sharing ideas or opinions on current task, Zace provides the smartest platform for an effective communication and collaboration.
Flexible yet Attentive
As we all know, rarely things go as per our solid plan in project management, flexibility is part of every business or project plan, be it in budget, resources, or even the timeline. As project managers, managing a team and a project requires an unsure amount of preparedness and awareness to take the project back on its track, in case of issues.
With Zace, with instant updates on task timeline and project updates, project managers and even clients can be more attentive, and be prepared. This logged entry also saves time as it helps in avoiding repetition of such issues in further projects.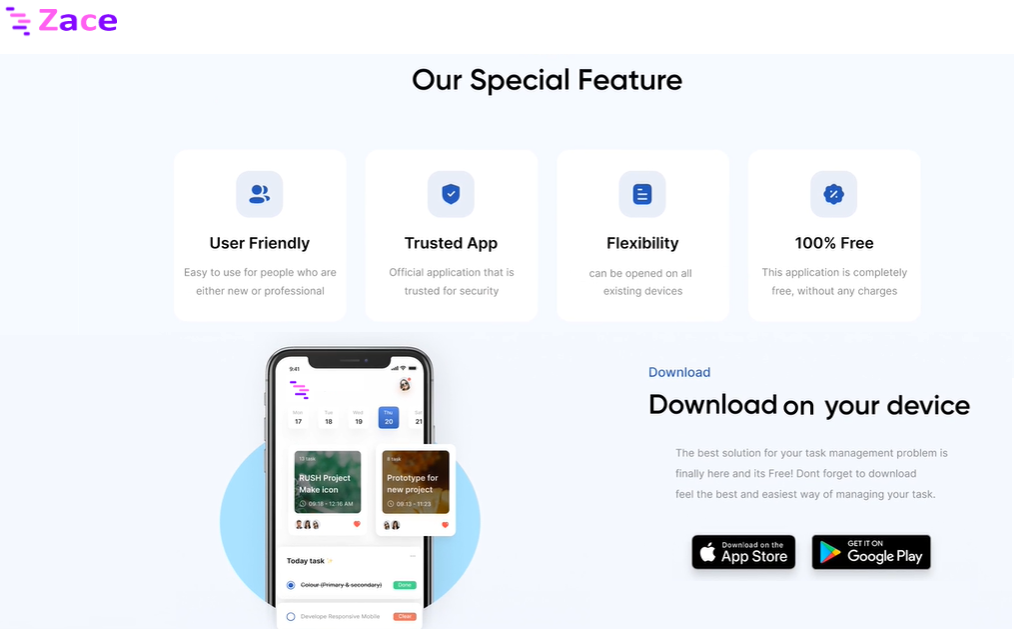 Proper Project breakdown
Managing the team and project also means having a detailed workflow. Breaking down the project into multiple tasks and subtasks, and assigning the team members accordingly to manage those tasks and subtasks effectively, requires a lot of planned, step by step progress before the start of project management. This saves time for both the project manager, and the team members. With Zace, breaking down larger tasks into smaller ones makes it easy on the team member working on it, and the detailed Gantt Chart layout of the project eases in smart execution of the tasks, in parallel.
This established structure, once saved, can be used for future projects and thus, saving more and more time! Zace project management app is a necessary tool for project managers and perfectionists, looking for growth and success.
Develop & Control Schedule
Creating a project schedule and managing the schedule in every step is a tiresome process. Time management is beyond teamwork and the individuals involved in the project. It requires a focused and effective input.
With Zace Gantt charts, developing a detailed and flexible, scheduled project plan and strategies to execute the tasks appropriately in the scheduled time, makes it the utmost time-savior for all. A planned schedule of the project with uniformed buffer times prevents the project from being delayed. Scheduled execution and timely progress helps in effective project management.
Resource Management
With Zace Gantt chart, resource allocation and tracking the team as well as every team members' timeline, budget, and performance is effective and error-free. This helps in keeping a productive and balanced team. This also ensures in better understanding of team members and their efforts, thus in turn, proper and effective resource management. The real-time data input also helps clients understand how resourceful, smart, and effective your team is. This saves clients from having unnecessary meetings to discuss required resources.
Save time from redundant meetings
With Zace, having clients being in line with the updates of the project flow is easier and smarter. This helps in preventing unnecessary meetings scheduled for project updates and progress update in the near the week's end. With staying in constant touch, clients can update new requirements, or request for change of a task before even it's started, and even help them focus on other works or projects with ease, instead of preparing previous meeting's followup and agenda.
With Zace, a status mail is all needed from the client's end to save time and get projects done easier.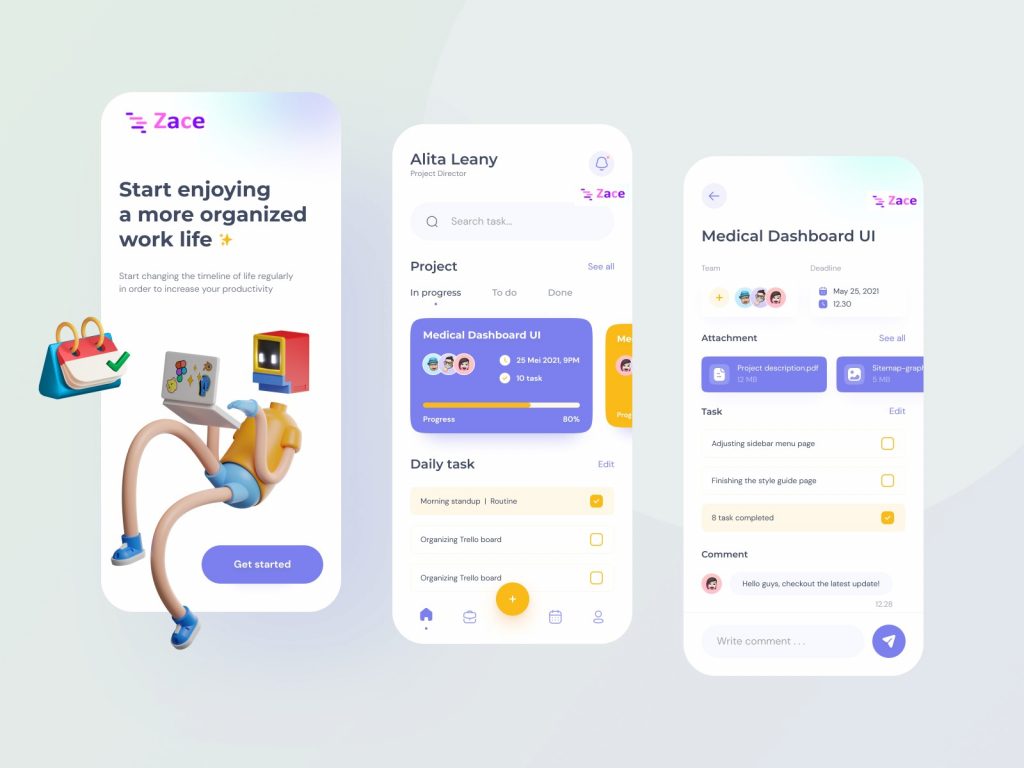 About Zace
Zace is that time tracking, project planner and project management monitoring software valuable for perfectionists, project managers, and team leaders looking for effective and smooth progress towards success and growth, for the whole team.
Zace feature enriched Gantt chart helps managers, and individuals to focus effectively on the project and save time. Zace is thus proved to be an effective time management tool, just like an effective Project Planner and Project Management tool it is.
Zace has proven to help project managers finish projects even before deadline and thus has helped them accomplish more and stay above the curve and crowd, in their competitive world. Thus, Zace is approved to be time-saving, cost-saving, increase productivity, improve team efficiency, and profitable.
Try Zace, a Gantt chart supported Project Planner and Project Management tool to ease your project management, ensure productivity, and welcome more opportunities.

Are you new to Zace?
Worry not, we are here to lead you!