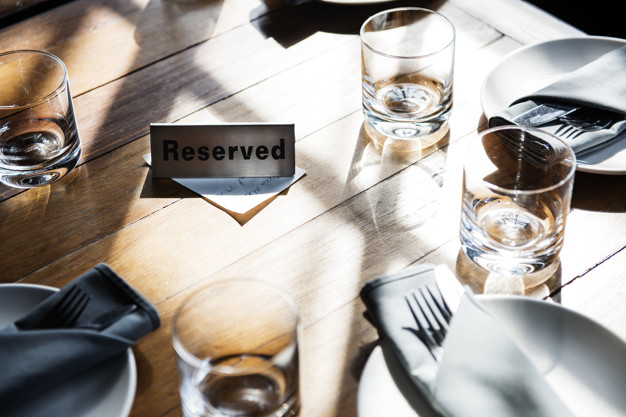 OpenTable Clone: How to develop the best Restaurant Finder & Reservation App?
How can we not talk about OpenTable if we are about to guide you on how to develop a Restaurant Finder & Reservation App?
About OpenTable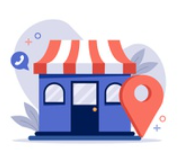 Trivial things in life could at times make a huge impact on us. And this impact could change our life and lifestyle!
Is this what we call the "Butterfly Effect"?
If that's what it is, one such Butterfly effect on Chuck Templeton led him to invent OpenTable in 1998. It was the great era where people used to make dinner reservations by phone. And Chuck Templeton, observing the difficulties his wife was facing while trying to book a dinner reservation by phone, ended up with the idea of OpenTable!
OpenTable, started as a website offering real-time reservations to diners and restaurants of San Francisco who signed up with them, is now the world's leading provider of online restaurant reservations.
With mobile technology and time, more apps like Yelp, Allset, BigDish, Tock are doing great and better than OpenTable but that has never stopped OpenTable from expanding their business worldwide and earning better names among people.
Why build an app like OpenTable?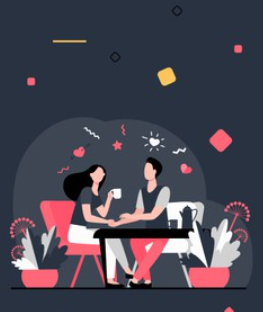 First of its kind!
When OpenTable was started as a website platform in 1998, they were the creators and leaders. They ruled in a monopoly market and to top that they managed to spread their services around the globe (80 plus countries), with an immense level of satisfactory reviews from the customers.
According to data from OpenTable's fourth quarter of 2019, OpenTable received more than 1.3 million restaurant reviews each month from their diners.
According to SimilarWeb, total visits to OpenTable, even at the time of COVID restrictions, was 10.46 Million, in the last 6 months of 2020 (July – December).
Without doubts, OpenTable, is, in fact, the best-known Restaurant Finder & Reservation app available in the market and in fact, a legend.
So, what to include in your app to rule like OpenTable?
Fear not, for we're here to assist you!
Get your app developed like OpenTable
Developing a customer-branded Restaurant Finder & Reservation App like OpenTable needs the baby steps of knowing what's in OpenTable and what makes it so special and successful.
Our Restaurant Finder & Reservation App is packed with all the functionalities every restaurant needs!
Our "RESTAURANT FINDER & RESERVATION APP"
The app is a 4-in-1 combo. The app contains 4 apps :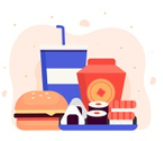 App for Admin
App for the Restaurants
App for the customers/guests
App for Delivery Person (if any / on request)
Our list of "KEY" features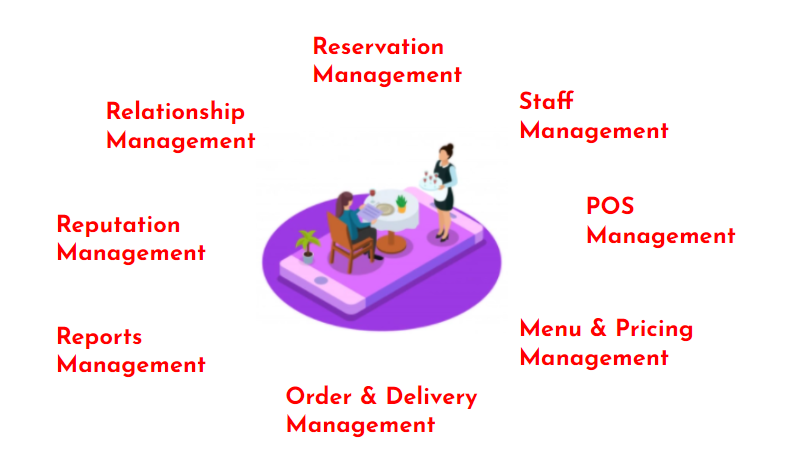 Advanced smart Search, Filters & Categories A quicker search to empower the customers and advanced filters and categories to return the preferences as requested by the customer.
Customized Search Filters allowing customers to track their favorite restaurant or find a new restaurant in the locality to try different cuisine, book a table, and post reviews. From "Most Visited" restaurants to "Highly Rated" restaurants or "Recently Added" restaurants, the Restaurant Finder & Reservation App is all about being user-friendly from login to logout.
Hassle-free Quicker Table Reservations, 24×7 Our Restaurant Finder & Reservation App supports small or new restaurants, diners, cafes, or even bars to have reservations done round the clock, making sure their restaurant is available for customers 24×7.
Individual Rating & Reviews Our Restaurant Finder & Reservation App allows guests to rate the restaurants and their menu quality separately. This helps in distinguishing the restaurants based on many criteria like the food taste, food quality, price, service, etc.
History Our Restaurant Finder & Reservation App helps users to see their history of search terms, reservations, and cancellations. This eases the user with further bookings if he/she is a frequent visitor to a restaurant.
Multiple Payment Integration Our Restaurant Finder & Reservation App accepts secured payment, with all modes of payments. A seamless integration that supports both iOS and Android users to use mobile payments in a secured way.
Geolocation Location-based search, to show restaurants when a user is searching for one, in their vicinity. The "Filter" or "location-based" search allows users to see the restaurants located, along with Address, Phone Number for contact, Map, User ratings, timings, and brief detail on what they serve.
Geolocation helps in attracting customers by sending Push notifications on recent offers and deals in restaurants near them. This helps both restaurants and app users to attract more users.
Location tracking also supports keeping track of order deliveries and for "Delivery Person" to reach the customer in-time. Geolocation helps restaurants to stay updated and also supports the app to reach more users and more restaurants.
Notification Personalized Push Notifications on offers, deals and discounts in restaurants, upcoming events or new restaurants in the locality, special messages, seating adjustment notifications, and more.
Our Restaurant Finder & Reservation App supports Email Notifications, SMS Notifications, and Push Notifications.
Takeout & Delivery tracking The app supports restaurants with delivery options.
Our "TOP" features for Table Reservation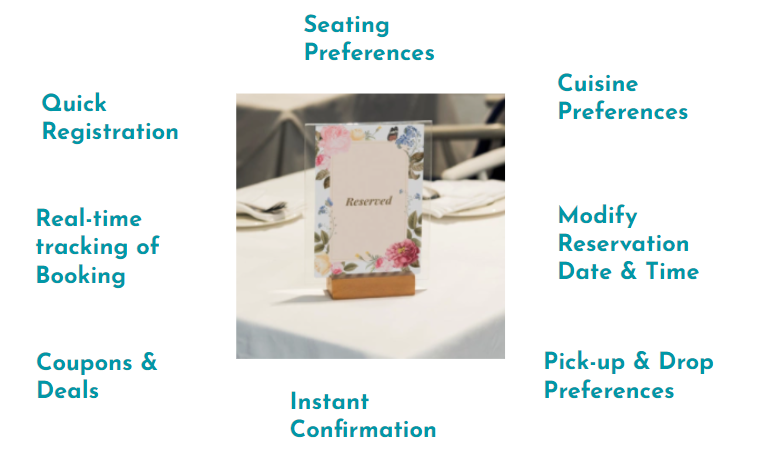 Our "Best" features for Delivery Person App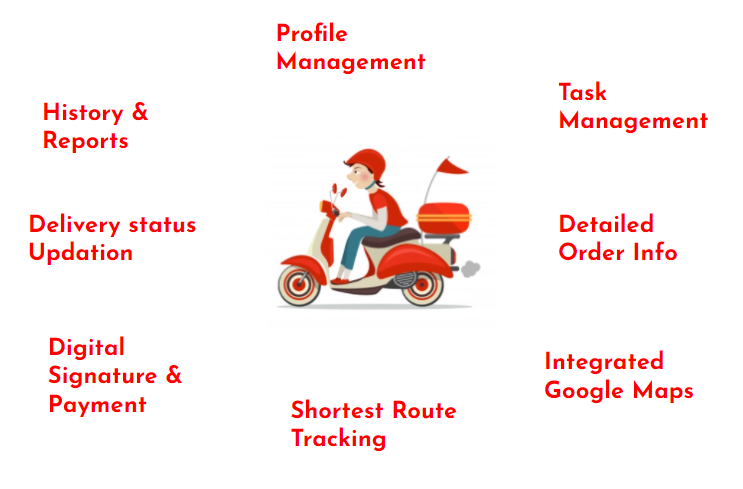 Our list of "COOL" features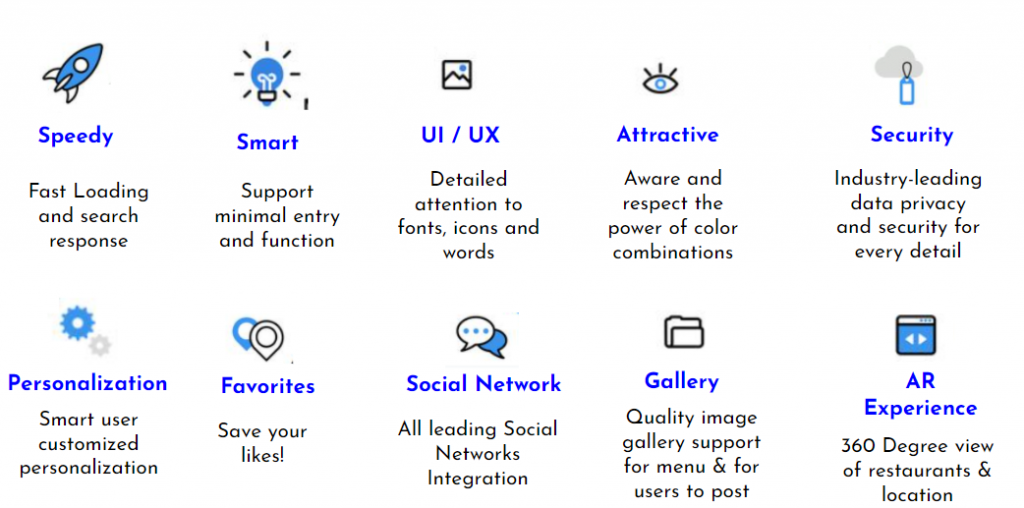 Timeline & Pricing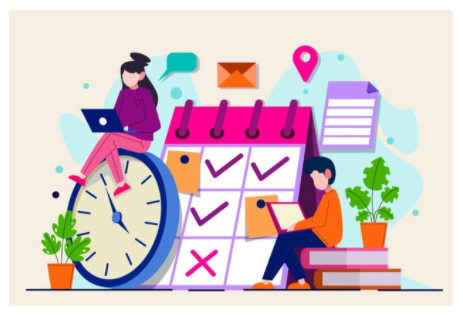 Restaurant Finder & Reservation App development involves many factors such as size, platforms, locality, technology, design, and features you expect the app to be filled with.
If you're an entrepreneur, who is new to the world of restaurants, we have discussed in detail the necessity of why your restaurant needs a Reservation App and what it takes to develop an app for your restaurant.

If you are looking for starting a business like OpenTable:
Our pre-designed OpenTable-like Restaurant Finder & Reservation App (iOS and Android) could help you launch your business in a day or two!

If you would like us to develop an app by enriching it with your strategies, ideas, and creativity, we can build it for you, and we promise to meet your requirements!

The period of app development varies with requirements but we assure you that Ascent24 Technologies will help you own the most creative Restaurant Reservation App for your business!

The pricing of the app depends on the project type (develop from scratch, existing model, modernization), features, technology, and platform you prefer for your app. As an established app development company, Ascent24 Technologies, assures we have a wide range of budgets as per your needs and our prices are the fairest and transparent in the market.
How will our app empower your business?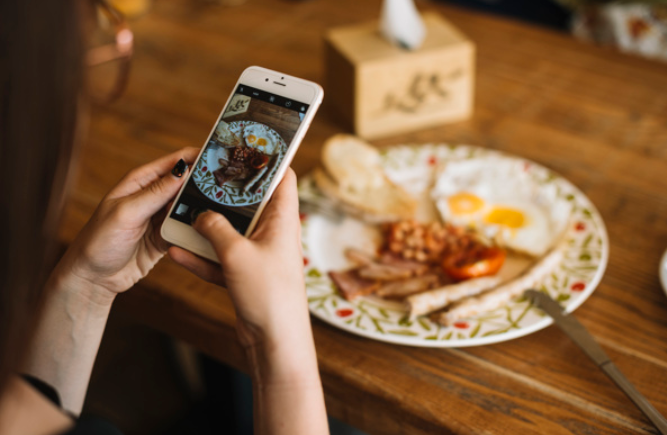 Our Restaurant Finder & Reservation app is an app enriched with features that fulfill the needs of restaurant owners, customers, and you, the owner.
Directory API providing you the feasibility towards all restaurants, diners, and cafeterias registered to your app and help you keep track of your clients.
Manage your business from anywhere and let your clients manage their business through your app!
Stay updated and connected with every update. Client Management made easy now!
Paperless, easy-to-track reports and analytics, all error-free reports.
The OpenTable-like platform is a throne for upcoming restaurants, diners, cafeterias, and bars to reach more customers at less expense.
The app supports all types of devices and platforms.
We design the best!
The app enables small and upcoming businesses to share space among the big ones, letting you own a wide range of restaurants and data.
Smart and quicker integrations make the app more approachable and user-friendly.
Our smart UI/UX featured screen and design helps startups to support both financially and technologically survive in the market with more technological capabilities.
The app supports different pricing plans for restaurants, helping them to choose as per their budget.
With more restaurants, more guests would look for the app for installation.
With the smart, modern, and best technology, our Restaurant Finder & Reservation app is of greater convenience for the restaurants to stand in the market along with the giants.
Our Restaurant Finder & Reservation app filled up with every business insight and analytics, helps you to reach more clients and customers.
For Restaurants
Registering a restaurant in a Restaurant Finder & Reservation App or owning an app for a restaurant increases the opportunities of expanding business and reaching more customers at less expense!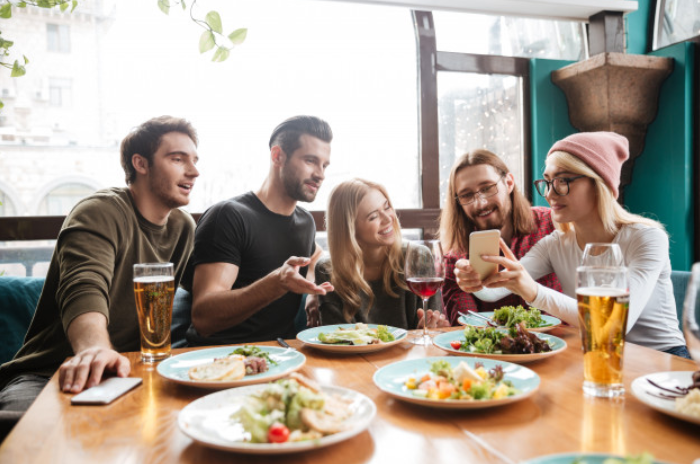 Registering your restaurant in a restaurant finder app means :
Owning a space in an app like OpenTable enhances your reach among the customers.
Restaurant Finder & Reservation App helps in engaging with customers who are excited to explore different menus and food.
Increase restaurant occupancy.
Real-Time Reservation Management Easy scheduling and managing of reservations.
Relationship Management Repeated Regular customers reservation in third party reservation!
Menu Management Restaurants can have an amazing quality picture-rich display of today's menu with attractive descriptions of cuisine!
POS Management Managing Point of Sale or outlets within a single app can help the restaurant owner to run and manage business easily!
Reputation Management Posting about open parties & events, today's specials, latest offers, and deals help in attracting more customers and also increase walk-ins. Increased customer base and profit.
Restaurant Owners & guests can stay connected on the same page on a different and common platform!
Publicize Letting new customers and tourists find you on a big platform like OpenTable increases your brand's awareness among new customers.
Real-time customer reviews & photos under the restaurant in a third party integrated platform adds more support and reach to new customers! Valuable words of mouth!
Increase sales by retaining old customers and getting more new customers!
Improve overall sales
Wrap

Running a restaurant or being in the food business can be managed effectively and conveniently if the tables are taken care of. Managing staff, menu, and table reservations are all a restaurant needs to run effectively. But, to stay competitive and ahead of other competitors in the business needs more of a strategy. A strategy to not miss a single opportunity or door to reach customers.
Improving the guest experience starts with reservations. Making sure your restaurant is in their hands is all the first baby steps any restaurant, diner, café, or bar needs and, OpenTable like Restaurant Finder & Reservation App is the right platform to achieve that!
Owning a Restaurant Management App to run your business is a benefit just like registering your restaurant in a Restaurant Finder & Reservation App, to manage table reservations.
Take advantage of the smart latest technologies and show your uniqueness to promote your business. Help restaurants streamline their business with recent, quality technology and strategies, to make a meaningful customer experience. Reach us to discuss more!