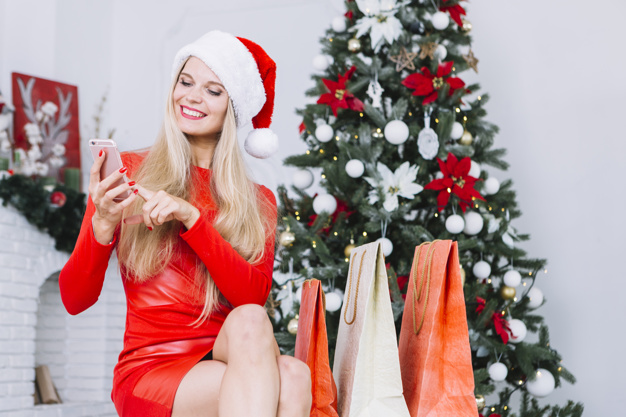 How to build a customer-centric eCommerce App for your store?
As a businessman, as a retailer, as a competitor, or even as a customer, are you impressed at the way how Amazon's mobile app looks and functions? The answer is going to be a "YES".
Do you really think your online business needs a customer-centric app like Amazon? I would be flabbergasted if you say "No"!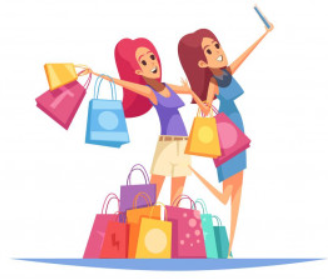 Presenting business in different ways is how we are supposed to do business in the current world. Amazon opened the golden gates for many sellers to a wider range of customers and endless niches. Something even a seller would not have dreamt of!
International, National, or Regional, irrespective of your business size and market, every online business needs a mobile app to expand their market and be customer-centric to attract potential customers.
Are you a startup in the retail business? Are you in dire need to own an online shopping app for your business, to sell your products?
Well, then you are in the right place and this blog post is JUST for YOU!
What are we about to discuss?
Quick-start List to develop a Mobile eCommerce App
How to build an eCommerce app?
How our eCommerce Mobile App empowers your business?
1. Quick-start List to develop a Mobile eCommerce App
I strongly believe, no words and boring statistics are needed to explain the growth and demand in mCommerce or to learn about the success story of customer-centric Amazon.com, Inc. as we belong to the same era!
The share of mCommerce in eCommerce is increasing with time and so is the competition. Companies like Amazon, Etsy, AliExpress, with an increase in sales via mobile apps, are focused on taking their business's mobile platform to the next level! If you are an active online shopper, you will be aware of the changes the websites and mobile apps are displaying, in order to attract more customers and retain them.
1.1 Our Quick-Start List : Your Focus Points
Before starting on the Mobile eCommerce App development, you should be clear on the basic idea, purpose, and required reach of the app.
Do a Market Research: Who is your target audience? Find what the buyers value the most when it comes to online shopping.
Determine your scope & app features. Would you prefer an exact Amazon clone or like to stand out and still be outstanding!?
Choose the platforms (Android, iOS…) as per your market area.
1.2 Our Quick-Start List : Your Pain Points
Ascent24 Technologies has done extensive research and learned a lot on the most common, biggest, and sustaining pain points any eCommerce and mCommerce sellers face in their marketplace. To name a few…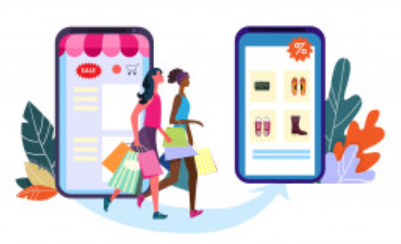 Traffic & Recognition
Failing to satisfy Customer's Expectations in terms of UI / UX
All- mobile & platform friendly eCommerce App
Slow Page Speed: Poor search & return speed
Slow app performance resulting in bad customer experience, negative reviews, and low ratings.
No proper display of product & information added.
Unstable old platform resulting in failure of converting everyone into buyers
Communication gap between seller & buyer
Hackers!!
2. How to build an eCommerce app?
There are a greater number of platforms available in the market for a company to develop its own mobile eCommerce app, without any coding knowledge. All you will be needing is creativity and a little patience.
But if you are to develop the app from scratch, you are going to need a list of required features. The benefits of developing an app from scratch: real-time update, modernization, powerful integrations, your all-in-one solution.
Features of an eCommerce App
1.Front-end Features Checklist
1.1 General Home Page
"First Impression" is also for apps and websites. The first impression of your app's home page is what drives the visitors to become buyers. The main goal of any store's app is to reach more customers and increase ROI. Even a simple website or app with basic and easy-to-navigate features attracts more customers. Simplicity is the root of making sure customers of all age categories can use your app.
The very basic scope of any Home Page will be to show the list of deals on top, best-selling products, easy and advanced search, sort by filters and options which will reduce the search time of customers, simple yet speedy navigation, display of upcoming or ongoing promos, and above all, the way all those are aligned.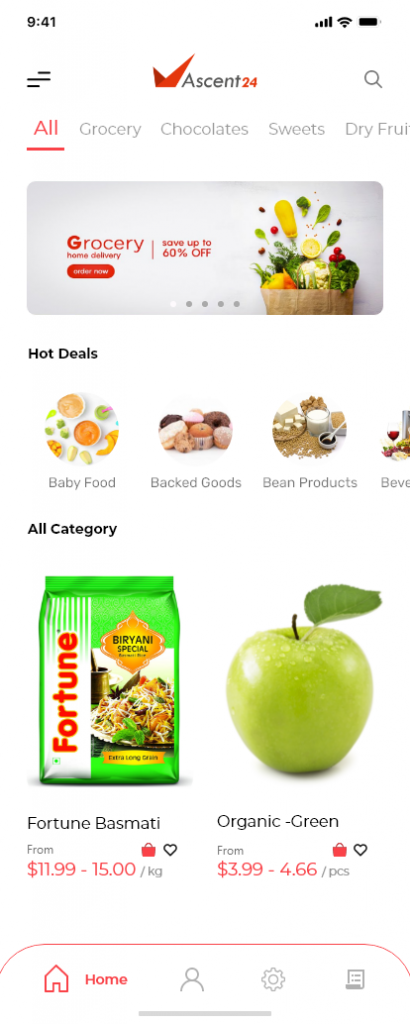 1.2 User Profile Portal
Like all eCommerce online shopping portals, the features list is the same for User Portal, like :
Secured & user-friendly New Registration / Login
The basic Login & Security Settings with Account Info, Secured Multiple Payment Options, Multiple Delivery Addresses, ID Proofs, Social Integration, etc.
"Make your Customer Feel Special!" is the Mantra for every business. Adding Personalized Settings, a special space exclusively for every single user with features like Your Recommendations, Membership & Subscriptions, Shopping List, Manage Device, Switch Accounts, Your Wishlist, etc. supports customer retention makes them feel they are in the comfort zone.
Order Management Manage Orders (Cancel/Buy again), Shopping Cart, Secured & Easy Payment & Checkout Process, Recent Orders Placed, Cancelled Orders, Order History, Order Tracking, Advanced Search, Replacement Options, etc.
Review Corner Letting the customer ask a query, add feedback, send reviews and ratings to an ordered product helps in promotion and increase in sales.
The basic way of staying connected actively with customers: eMails & Push Notifications, Alerts, Subscriptions, Help Tips, 24×7 Support, Message, Terms & Conditions, etc.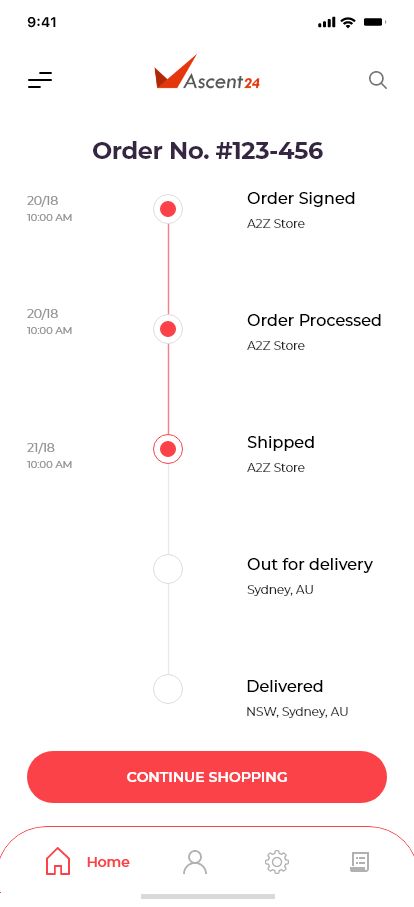 2.Back-end Features Checklist
Admin Portal
Secured & user-friendly New Registration / Login
Well organized Dashboard displaying Low Inventory Status, Performance, and a real-time update on the inventory, sales, orders, cancellations, and account balance.
The basic General Settings features like Login Settings, Account Info, User Roles & Permissions, Help, Policies & General Info.
The root of your business, Inventory Management, make sure it's easy to navigate, understand, and use. The basic set of features include Product Catalog, Add / Edit / Activate / Deactivate Product, Real-time Product Status Tracking, Advanced Search & Filters, etc.
Pricing Management Secured Multiple Payment Gateways, Payments, Refunds & Transactions, Promos, Coupons, Marketing Campaigns, Offers, Deals & Discounts pricing updates, Tax Settings, Reports, etc.
Order & Return Management is the lifeline of your business where you Manage orders placed, shipped, canceled, and pending, Cancellation & Refund Authorization Settings, Track order, Reports, etc.
Feedback Corner Customer Queries, Customer Feedback, Reviews & Ratings, Product Performance over time, etc.
Stay connected with your business and customers all-time with Instant eMails & Push Notifications, Alerts, Help Tips, Support, Message, etc.
Project Timeline & Pricing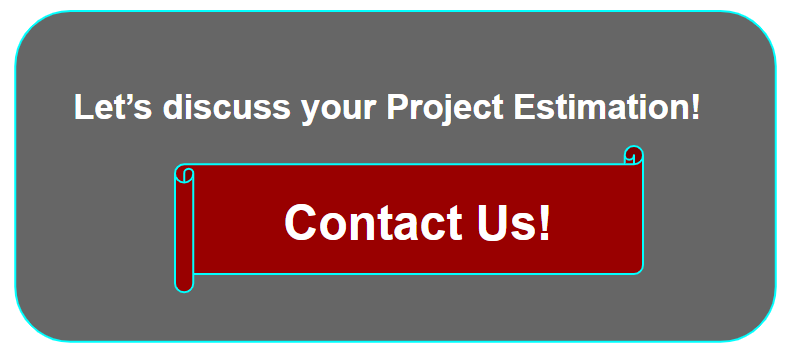 Our Checklist for your Mobile eCommerce App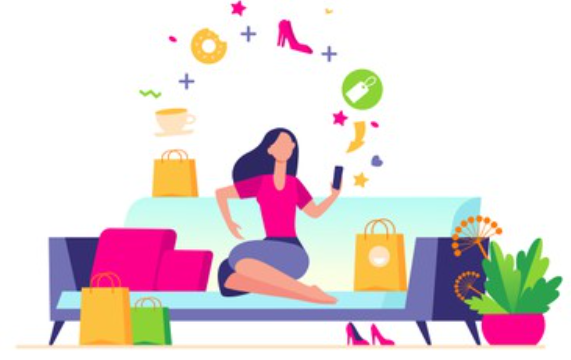 Attractive & Bold UI/UX
AI-backed speedy Search & Filters
Engaging Product Information & Image presentation
Easy Page Navigation
Real-time Order tracking
Instant & Attentive Customer Support
Unlimited, User-friendly User Portals
Secured Multiple Payment Integration.
Unlimited Product Catalog
Admin Portal
Geolocation
Social Integration
In-app Analytics
Inventory Management
Reports Management
Testing & Future Services
3. How our eCommerce Mobile App empowers your business?
In addition to providing the above mentioned basic features of the eCommerce app, we show special care in product display. The importance of images is all eCommerce business is all about. There are certain requirements on how an eCommerce image should look in the catalog starting from image high-resolution size, alignments, background, product in action, product in real-time use, display of attached props, angles, even color, and shadows.
Ascent24 Technologies, by integrating advanced technologies makes sure the product's image is displayed effectively and attractive enough to drive the user to push the product in the shopping cart.
Product Display
Product Image and Product Description are the only 2 basic and important factors in driving sales. Product Image, Basic Product Info, Product Variations (if any), Deals (if any), Gift Options, Pricing & Offers, etc speak on behalf of us and help the user in making purchase decisions.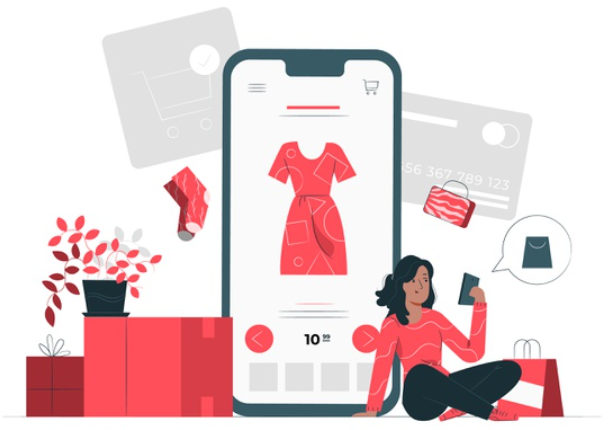 What we provide you?
Features list on Clear Image of the Product saying what is the apt image size, image file format, color mode, image frame, and background required, which is far better than the usual standard image.
Touch & Zoom feature of the image added, to help customers view in detail, the product and the props added, in all angles.
Detailed Product Description template to clearly display the product's basic info, product function, product variations, and availability.
Product Reviews & rating column, from the buyer end. Images and videos of the product from the customers ensure you in building trust among potential customers.
On request basis, we are also ready to provide,
360 Degree video, for a product demonstration.
AR View (Augmented Reality) feature, enabling customers to visualize the exact size and shape of the product via their smartphone.
Worth a catchy attention & addition! Am I right? There's more…
Increased ROI
Increased Sales
Higher Conversion Rate
Better Customer Loyalty
Customer Retention
Instant Optimization Support
Attractive UI/UX Design
Advanced Technology Integration to your app
Stay advantageous over your rivals!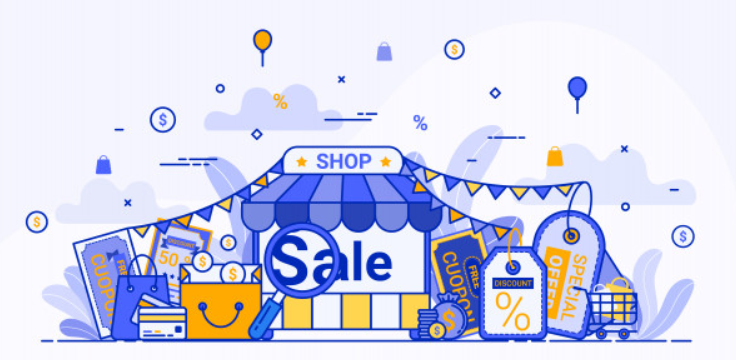 Wrapping Up
The success of the world's e-retailer giant, Amazon, shows how shopping online has satisfied people to buy more and how big has smartphones turned into being the shopping stop, for every product. Irrespective of your product, starting an eCommerce Mobile App platform for your retail business is a remunerative decision.
Exploring new opportunities and niche is the apt way to make sure your business is in the top-tier. When it comes to customer loyalty and customer retention, what better way than to develop a mobile app for your business and make sure your business is in safe hands?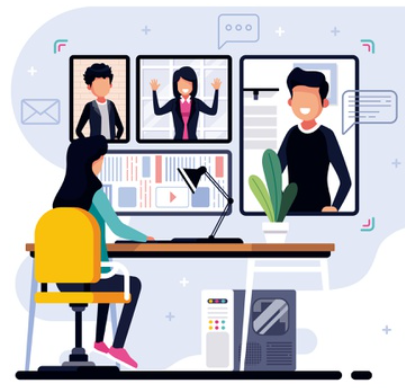 What are you waiting for?
Start doing the internal and external research and list out the plan, features, and budget for your business's new mobile platform.
For queries, feel free to reach us!📞
Demo? Drop us a line!📧
Ascent24 Technologies, your one-stop destination in developing and modernizing mobile apps, are experts in developing eCommerce mobile apps like Amazon with more extra features, on request!
Let us know, if you would like to know more!
Thank You for your time! 😊