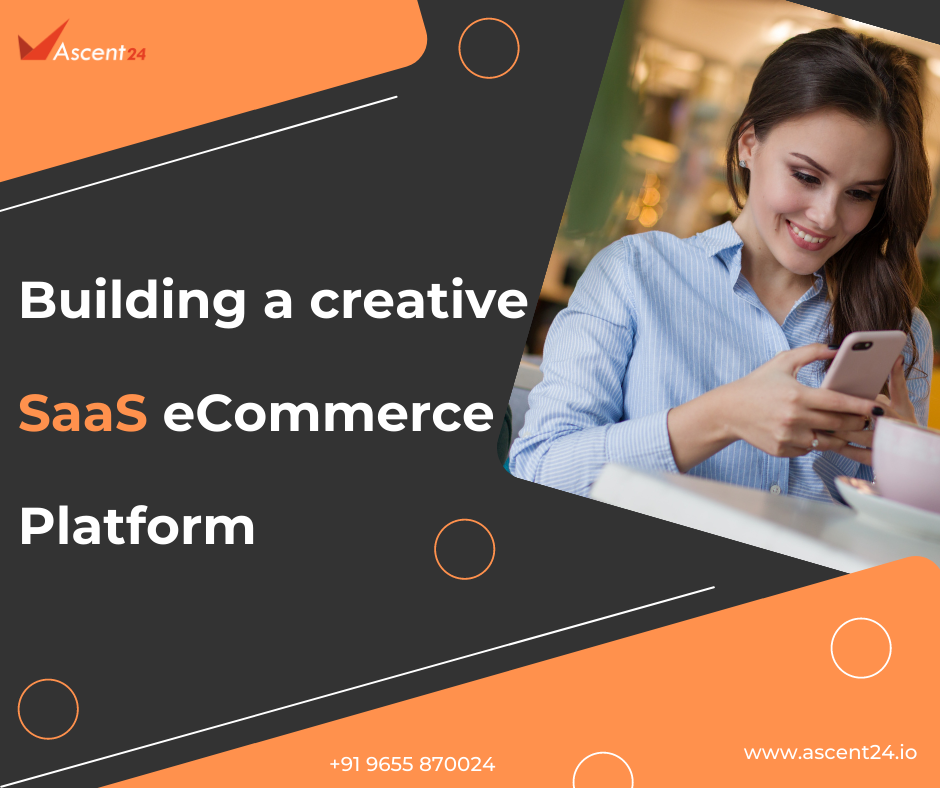 SaaS eCommerce platform : The Ultimate Guide to build the Best and all-effective platform!
SaaS has empowered businesses to be more powerful in their market. With SaaS, ideas are being turned into custom apps, and websites.
As a successful software developing firm, specialized in developing tailor-made solutions for startups and businesses of all sizes and all industries, we are aware a lot of businesses are aware of the power SaaS holds within.
Technology is changing, and so is the form of doing business. Rapid change in technology is helping businesses do better business in minimal operating cost with possible automation. Technology has speeded up the way of doing business and expanded the market size, facilitating business expansion, again, in a reduced budget.
As per Statista, in the year 2021 alone, there were approximately 15,000 SaaS companies in the USA and all together, they had around 14 billion customer worldwide.
Building a SaaS platform is indeed a smart and profitable approach as a startup trying to own a multi-tenant eCommerce platform and also, if you are a business, hoping to expand your business digitally.
Our 5-step approach to digitalize your eCommerce business with SaaS!
A detailed research is the first step if you wish to digitalize your business, regardless of the industry and firm size. Research and get a detailed idea on :

The Market size and competitors in the region you are trying to expand.
The Target Audience and their interests. Globally age group, exposure, competitors in the region, culture and interests vary and play a critical role, in integrating different features and promotion ideas to attract target customers and expand in the market.
With the right research, and a little support from consulting firms or experts in the industry, you will be able to know what you need, what features it should support, how it should appear, and when you need it. And thus, devising a Business Plan describing the objective of your eCommerce business, your goals and vision, core activities required, your plans on achieving those goals, your products of interest, areas of interest, marketing strategy, and budget makes further steps clear and easier.

Once you are decided, the next step is in Developing the SaaS for your eCommerce business. To go to market faster and impress the audience with a fresh, and better first impression, it's a must for you to pick the right development firm or team or expert. To develop a SaaS for your eCommerce business, research on the list of features, functionalities, how the app or website should look, list of developers or firms available on the market, a flexible timeline and budget it takes to develop the product.
With the right team of developers, designing, developing, testing, and deploying the product is a hassle-free phase. Once your product is ready to launch, promote your eCommerce platform, website and mobile app. Take your business to your customers and target audience and cherish the moment with offers and deals! Attracting customers with shiny ads and attractive deals will make your launch day more special and increases the reach, all thanks to the customers' word-of-mouth marketing. The eCommerce platform helps you in managing the pricing details and inventory.
D-Day! Launch your online business! With the right structure, marketing strategy, quality products and promotions, enjoy an epic launch of your business!
Success lies in growing. Boost your store presence to increase sales. These days, with technology, just like how developing a software is faster, same is the speed at which businesses are competing to grow and enhance their business profitably. With more open tools to support error-free analytics, running a business, promoting a business, scaling up with increase in requirement, and upgrading business with change in technology are all success steps to take your business higher and safer.

Ascent24 Technologies, as experts, has developed and deployed multi-tenant, as well as, individual eCommerce platform for businesses of current trend. If you wish to do a quick check on your idea, design and develop it as a user-friendly revamping eCommerce platform, with the support of right technologies, you are always welcomed to approach us for free consultation and estimation!
5 reasons on why you should choose Ascent24 Technologies' SaaS eCommerce Platform
There are greater number of benefits our clients are enjoying on implementing our SaaS eCommerce platform for their business. Summing up all those, we give you the reasons why our clients say they find our SaaS eCommerce platform as the best choice to run their business
Speed is all any online platform needs the most to attract and retain customers. Customers hate buffering links. Our ready-to-use solution has supported our clients to expand their business, with increase in customer flow. With the increase in the number of users, expanding business isn't an option but a necessity towards success. The speed of your eCommerce platform decides your connection with the user, and we work to strengthen the bond.
Scalability is a must when your business grows. Our SaaS eCommerce Platform supports for both easy integration and scalability of your business's digital platform. Our eCommerce platform is easy to integrate with any existing software. Supported with powerful API integrations, our eCommerce platform adds more extra features, speed, and functionalities to your existing system. Modernization is only a click away.
Affordable Cost is every businessman's dream. Owning an eCommerce platform, with maximum functionalities, simpler user interface, and easy maintenance support, is a desire of any entrepreneur who wishes to own an eCommerce business. With a whole package of built-in functionalities and add-ons in our eCommerce software, there's no need to start from scratch. Thus, building your eCommerce platform with us saves time and is also cost-effective. Our eCommerce SaaS is filled with all basic and advanced functionalities to the extent that you won't be having many add-ons left to add.
Flexible SaaS supports both growth and success of any business. Our SaaS eCommerce platform is a flexible platform, letting you handle unexpected changes smoother and stress-free. Our SaaS eCommerce platform is an open, end-to-end easily modifiable platform assisting you to modify only the required part. This also ensures reduced budget for the makeover!
Maintenance is a headache to businesses when they do not own an IT team. Ascent24 Technologies supports in both hosting and maintaining the software, making sure to stand by your side and help resolve issues, real-time. Software updates, fixing bugs, increased speed, and up timing are all well taken care of by our team. Our clients never had the worry of their digital platform with us. Leaving the thoughts of your digital platform to us, you can focus on your business strategies. We'll line up the digital platform along your success path, with advanced next-gen functionalities and technology.

Interested in building your eCommerce platform with us?
Let's discuss as per your feasibility and availability!